Today, the pet food industry has become more and more competitive. Pet owners began to save on their pets in the very last place. Therefore, the segment of goods for pets, as well as goods for children, turned out to be the least affected by the negative impact during the crisis. The trend of humanization, which is expressed in the fact that the owners perceive the animals as members of the family and provide them with an appropriate level of care, is becoming more and more vividly manifested. In new offerings of premium and higher categories, manufacturers use organic ingredients that are of the same quality as those used for human nutrition.
But the main factor which influence the choice of pet food is still the level of well-being of their owners. The smaller the family budget, the cheaper the pet food is purchased. Another effective criterion for choosing a feed is the degree of brand promotion. Therefore, new participants in the pet food market in Ukraine have to make significant efforts to gain attention among customer comparing with competitors already known to the buyer.
In addition, it has been noticed that consumer demand is gradually shifting towards wet food, which is considered the closest to natural food. If a few years ago dry feed occupied up to 80% of the market, and wet – 20%, now this ratio is approximately 65% ​​to 35%. At the same time, up to 85% of sales of wet food goes in portioned packaging and 15% – in other types of packaging. This suggests that the consumer is increasingly giving preference to convenience and versatility.
In this case, we strive to be a supplier of those ideas that are reflected in new products. It's not a secret that packaging of pet food can influence the consumer's final purchase decision. It should be not only attractive, but also functional. Therefore, every year we help many enterprises to determine not only the right equipment for the production of feed, but also new trends in the field of packaging.
Every breeder today knows that with a busy life and work schedule, pet owners need a flexible solution for preparing, feeding and caring for their pets. Therefore, flexible packaging has replaced conventional packaging, thanks to which a high level of convenience is provided: easy opening and closing, strong shape, minimal storage space.
Benefits of flexible pet food packaging.
Freshness. Flexible packaging provides the optimal solution for preserving and extending the shelf life of the feed.
Convenience. With ideal sizes from 50 g, flexible packaging is ideal for any pet food. With a variety of easy opening and closing options and minimal storage requirements, flexible packaging is the number one choice for global brands.
Sustainability. With the increased demand for organic pet food and increasing environmental awareness, we have a range of sustainable solutions to provide eco-friendly packaging options for pet food manufacturers.
What flexible packaging formats are there? Let's consider the most common ones:
Stand Up packages

Flat Bottom Bag

Pouch with four seals

Printing film
Stand Up packages.
Such packages are very versatile and convenient. Unsurprisingly, this packaging is chosen  among many brands across a variety of industries. The Stand up bag maximizes sales value thanks to its versatile design. Stand-up pouches help extend the shelf life of food, while clever resealability and easy-to-open features help keep food fresh for a long time.
Advantages:
Re-closable zippers and easy-to-open tear-off slots.

Rounded corners to avoid sharp edges.

Depending on the volume you are packing, you can use a Doy-pack or a K-seal bag. Doy-pack is suitable for light products, k-seal for large volumes.
Flat bottom bag.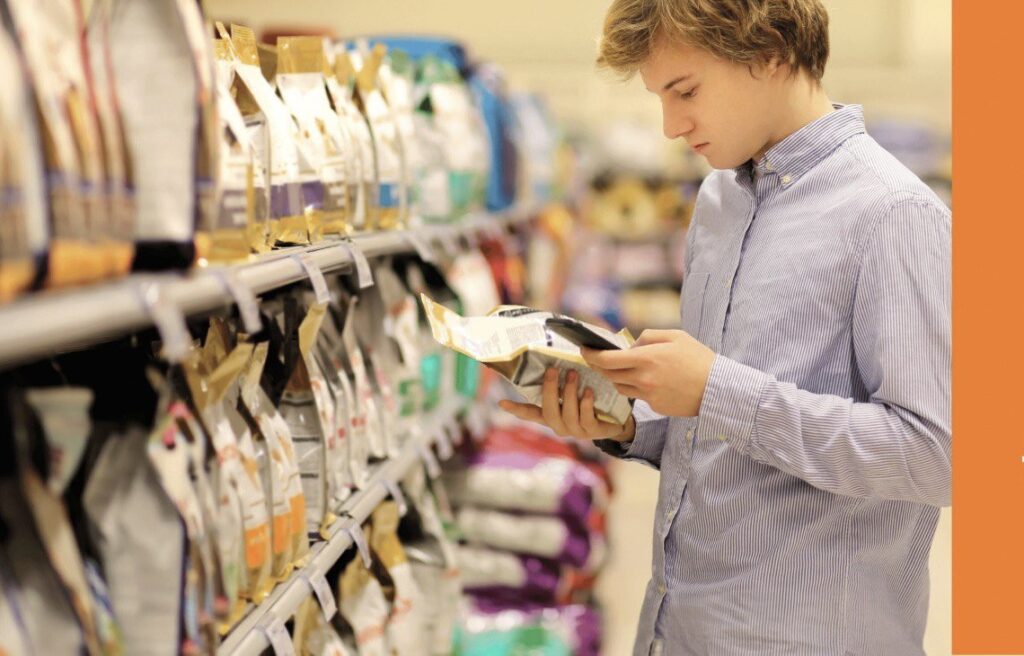 The flat-bottomed bag has a tough, sturdy design that allows you to hold more product and maintains an attractive appearance on the shelf. They are a popular choice in a wide variety of industries.
Advantages:
Functional features. Fastening use: standard press to close, Velcro zip, pocket zip or top slider.

Rigid and durable bottom insert. The flat bottom pouch offers more space for the product at the bottom. Square base provides rigidity and stability when placed on supermarket shelves.

Food Grade Materials – Flat Bottom Bags are manufactured using the highest quality materials.

The addition of two additional side inserts and a four-seal design allows more retail space on the sides of the package. The flat bottom bag offers five displays for maximum shelf exposure and brand awareness.
Bag with four seals.
Ideal for packaging and protecting large volumes of products. With seals at all four corners and a box bottom, this format is robust and compact.
The reinforced structure of the four-seal pouch makes it attractive on supermarket shelves.
The four-seal pouch is ideal for packaging sizes from 500g to 20kg and is ideal for bulk packaging. The quad format allows you to expand your marketing and advertising messages with high quality printing.
Advantages:
High visual impact. The quad seal format offers the extra space needed to accommodate all the information you need, and the quad seal format means your designs are not interrupted by rear seals.

Food materials. All four seal pouches are manufactured using the highest quality materials.

Ideal choice for wholesale products. Sturdy enough to hold a very large amount of product, the four-seal pouch is the preferred packaging format for many wholesale pet food manufacturers.

Reinforced design for large products. This pouch structure with a four-layer seal helps the filled pouch hold its shape better on the shelf, and its compact design takes up less width for the same product volume than its traditional counterparts.
Printing film.
This flexible packaging format is ideal for high speed filling and sealing applications.
Supplied on a roll according to your requirements, the printed film can be converted into packaging of any format during the forming, filling and sealing process.
Printing film provides the consumer with fresh, attractive packaging that helps preserve and protect their product.
 Advantages:
Printing film is one of the most flexible packaging formats available. Using the latest technology, the film can be fed vertically or horizontally and compressed to create packaging of any size and depth for single-use or reusable products.

Food materials. All printed films are manufactured using the highest quality materials.

Filling and capping. Hot and cold sealing films are suitable for filling wet and dry food, for filling and sealing horizontal and vertical forms.
Since packaging is the final step on the shopper's journey to purchase, we've highlighted trends to follow in 2021.
Sustainability.
75% of consumers say they will be more supportive of a brand that has made its packaging more sustainable. Consumers are placing greater emphasis on ensuring that the products they buy are produced in an ethical and sustainable manner.
Premium packaging.
As the humanization of pets continues to spread, pet owners want their pets to eat as healthy a food as themselves. According to statistics, over 40% of pet owners now buy premium food for their cat or dog. As more and more brands release premium pet food lines, these products require quality packaging to protect and preserve their ingredients.
Flexible packaging is one of the most widely used formats in the pet food packaging industry. Flexible packaging solutions extend the shelf life of pet food by preventing the transfer of odor, moisture and oxygen. The pouches equipped with sealing technology also help to keep premium feed at peak freshness.
Eye-catching graphics, high-quality printing techniques and unique finishing materials all indicate to consumers that they are buying a premium product.
Convenience.
Tightness, product freshness and ease of use are the factors for consideration when choosing packaging. Now more than ever, pet owners are driving the demand for convenience in pet food production.
It is imperative that when designing pet food packaging, brands choose reliable and convenient features such as easy opening and resealability. It's not a secret that 50% of pet owners say they are unhappy with not being able to re-seal the package after opening. If the bag gets damaged during opening or pet owners try to seal it between feedings, they put under threat the freshness of the product. Although this is the driving factor when considering buying. To ensure optimal production and distribution of their products, brands must offer packaging that not only retains its functionality and appeal to consumers, but also ensures efficient production throughout the entire process.
Look ahead.
Pet care trends may change again as consumer attitudes and demands change, but the demand for convenience, sustainability and premium packaging is likely to determine brand choices when it comes to pet food packaging for years to come.
If you are a manufacturer of pet food and you need to select equipment for production, contact us by phone or write to us at E-mail: info@steiner.com.ua. We are always happy to help in the correct selection of equipment.